We're excited to introduce you to some of the incredible people working behind the scenes at Travix. Each Travix employee, in every position, plays a key role in getting traveling customers to where they need to go! We inspire and guide our customers through their entire travel journey offering the best travel deals possible and smooth booking through our user-friendly platforms. Travix is the company behind the internationally recognized brands:
CheapTickets
,
Vliegwinkel
,
Vayama
,
BudgetAir
and
Flugladen
. Travix has more than 500 employees representing about 50 different nationalities. Travix's own operations spans 39 different countries.
Learn more about working and moving with Travix in
Iain Croll
's blog.
Moving to the land of pickled herring, biertjes and stroopwafels
A year ago, I made the decision to move from London to Amsterdam and I absolutely love it. I had been to Amsterdam a few times over the years and also did an Erasmus study abroad at Tilburg University—I've always really enjoyed it here. So, when I was sitting having a beer at Rembrandtplein after a year of round-the-world travel, I decided to look into the possibility of staying longer by getting a job. I came across a job ad for a position as product owner at Travix via Arrows recruitment agency.
I immediately applied and, a week later, I had an interview! And after a few more interviews, I was offered the job! During the interviews, I got the impression Travix was like a startup where everyone was very keen and passionate about their work and, to me, that was a great selling point for wanting to join the company. Everything happened so quickly and now I'm working as the Senior Product Owner of the website landing pages and content management system.
Buddying up and apartment searching
Landing the job was the first big hurdle, but then came the time to actually plan the relocation and move. Travix helped me along the entire process. They have a buddy system and my buddy was the person I was replacing in the position. It worked out really well and it was nice to speak to someone about everything related to moving and settling into the Netherlands, next to regular day-to-day work topics.
Since I had just returned from a year of travelling, I could start working right away in the London office while I prepared for my relocation to Amsterdam. Travix introduced me to a relocation specialist named Yael. I explained what I was looking for in an apartment and she started searching right away. She found 6 apartments and took me on the back of her scooter to visit them all. Between visits, she introduced me to pickled herring and told me about the different neighborhoods. The hard part was choosing which apartment to rent!
Travix offered me a number of relocation benefits. Next to arranging a buddy and paying for a relocation specialist to assist me, they pay for shipping and flight costs and help me set up my appointments to get a BSN (national identification number) and to open a bank account. They are also willing to pay for the first month's rent in an apartment while you apartment hunt, but I didn't need that since I found one while working from the London office. Travix also supports you in learning Dutch and I've been learning how to speak basic Dutch for everyday living. I met 7 other people in the Dutch lessons held at the office who are not from my own department, so it has been a great source for getting to know colleagues and make new friends.
I can truly say that Travix lives up to their Mantra "We move people". Not only physically, in my case from London to Amsterdam, but also emotionally by really supporting me and making me feel very welcome all throughout the relocation and onboarding process.
My 3 tips for people relocating for work
Overall, the relocation process has gone super smoothly. Things that I thought would be difficult, weren't! I am also happy to share my 3 tips for people planning to relocate for work. They are:
Find every piece of

important paperwork

you think you may need – from bank statements to birth and marriage certificates, and so on. Put them all into one folder so you have them ready on hand, as you will need to have copies of them to do several things, such as opening a bank account.

For moving to the Netherlands, I recommend

reading the Undutchables book

, as it puts a lot of things into perspective.

Anytime you move house, I advise you put things that are important to you—

things that hold some emotional or sentimental value into a box

, such as a photo, mug, etc. to move with you right away (before the rest of your items are shipped) so you can feel at home more quickly. It makes all the difference.
Amsterdam living (and avoiding the tourists)
I've only been living here for a year, but I'm already trying to avoid all the tourists. My partner and I take a lot of weekend trips to explore other Dutch cities and towns. Every city has its own charm and people are amazingly friendly. I feel that Amsterdam has all of the benefits of London with the theaters and buzzing nightlife, but without the rat race and stress you have with living in London. People are more laid back here and not in a rush.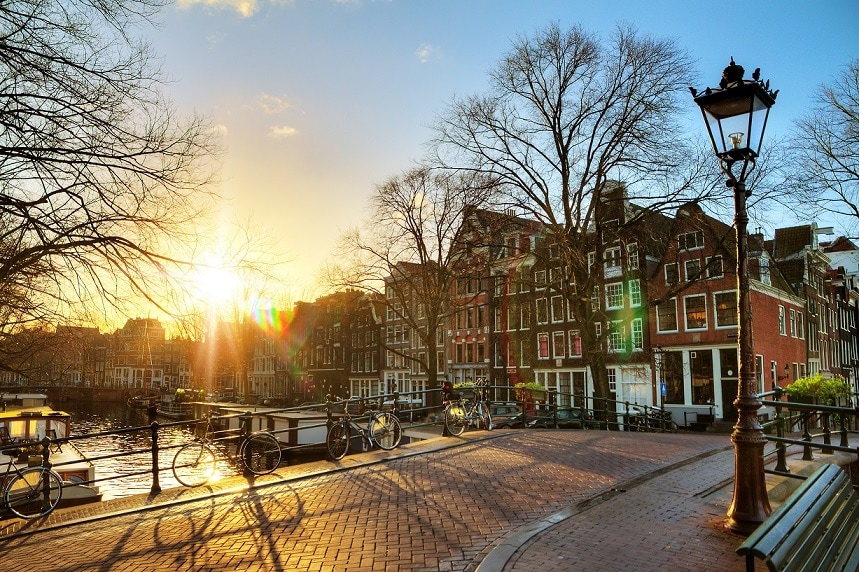 What surprised me most about the Netherlands is how much fried food there is! I've also gotten used to the small beers - biertjes - instead of the large pints you get in the UK. A big lifestyle difference is, of course, the cycling. It's so easy to get around the city, which you can do in almost 15-20 minutes to anywhere. I would never cycle in London!
I think you can tell I'm happy to be living here in Amsterdam and working for Travix!
Greetings from Amsterdam, Iain Croll