03 oktober 2019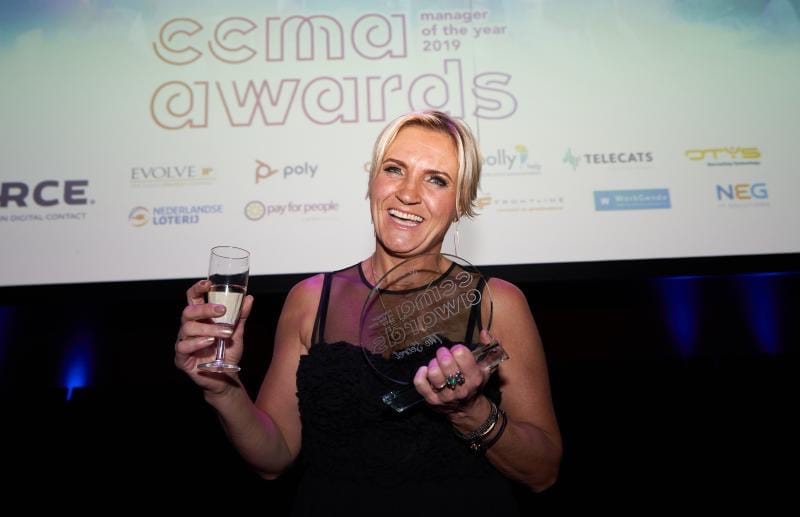 Uit ruim 70 genomineerden en 10 finalisten werd gisteravond Mirjam van den Berg uitgeroepen tot Manager of the Year 2019. De manager Customer Operations bij Travix wist de award in de wacht te slepen door in te spelen op de strategische rol binnen het bedrijf en aandacht voor medewerkers, aldus organisator CCMA.
Tijdens het event werden de tien finalisten nogmaals geacht juryvragen te beantwoorden en zichzelf te presenteren. Mirjam van den Berg kwam tijdens de awardshow als winnaar uit de bus. Dit jaar was het voor het eerst dat de stemmen van CCMA-leden medebepalend waren voor de winnende manager. CCMA-voorzitter Ingrid Schermer licht toe dat verbinden een centraal thema behelst.
Jurycommentaar
'De focus binnen de wereld van klantcontact ligt zonder enige twijfel bij klantcontactmedewerkers, het belang van het vinden en behouden van goede mensen en de steeds belangrijkere rol van een klantcontact-afdeling binnen een organisatie. Dit zien we ook terug bij de tien finalisten van 2019 en zeker bij de winnaar.' Volgens juryvoorzitter Bart Boere hoort zowel de strategische rol binnen het bedrijf als aandacht voor de medewerkers tot de eigenschappen van de beste contactcenter manager, 'een rol die steeds groter wordt en de impact van de manager steeds evidenter'.
Bron: Customerfirst.nl