We're excited to introduce you to some of the incredible people working behind the scenes at Travix.  Travix is the company behind the internationally recognized brands:

CheapTickets

,

Vliegwinkel

,

Vayama

,

BudgetAir

and

Flugladen

. Travix has more than 500 employees representing about 50 different nationalities. Travix's own operations spans 39 different countries. Learn more about what it's like to work at Travix in

Kobi Ampoma-Nketia's

story.
It's a funny story of how I came to Travix. Last Spring, I started looking for new career opportunities. I turned on my LinkedIn alerts and received a notification about a position at a company called Travix. I read it and thought, hey, sounds interesting and seems like a good fit, but I'd like to learn more about the company's culture. I saved the job ad.
A week later, a former colleague of mine reached out to me to see if I was seeking out new opportunities, because she had recently joined a great company – Travix – and thought it'd be great for me too. She said the culture was fantastic and perfectly suited to my ambitions. The next thing I did was apply and, five weeks later, I was hired to lead Talent Acquisition. All signs pointed me to Travix!
High level of passion
Working in this role for the last eight months, I've been able to see firsthand the level of passion people have for their work throughout the entire organization. This passion is pervasive in the company culture. Everyone has an important role to play in bringing the company's strategy and goals alive, and to make a real impact in what they do.
Being deeply passionate about talent acquisition, Travix's company culture is one that I can get behind. And it is my goal to ensure that both existing and new employees can see, smell and feel the ambitious and impactful culture too.
Understanding the business
I always try to connect to and understand the business and to translate those objectives into the roles we offer and the candidates we hire to fill them. Currently, I am focusing on strengthening how we assess candidates, improving employer branding, promoting internal mobility and enhancing our reporting processes. Among our many initiatives, my team and I offer internal workshops on recruitment, we go to conferences – such as on inclusion and diversity – and share that information with colleagues to reflect on our ways of working.
No shortage of learning objectives
We're never too old to learn and there are no shortage of learning opportunities at Travix. From Lunch and Learns to the digital learning hub to various development programs. For instance, I recently participated in a leadership program alongside approximately 35 others in the company. We reflected on what leadership means, zoomed in and out on diverse topics, listened to the CEO of PSV, a Dutch football club, speak, and delved into team building exercises. We spent time connecting with one another to share insights and to simply get to know my Travix colleagues. It was a rewarding experience to say the least and I'm looking forward to the next chance to learn and develop myself.
Travix's DNA
It's an exciting time to be part of this fast-growing company in one of the most dynamic industries in the world. The CEO has a clear vision for the future and a big part of that is bringing on board new, exceptional talent to take us there. Foremost, we look for people with passion and an ambition to make an impact in their roles, who are flexible, and who like to have fun at the same time.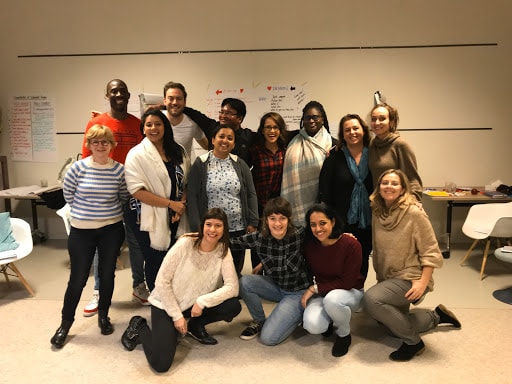 I like to preach, but maybe it's just easier to come see for yourself what I'm talking about!
      Want to read more? Check out our other blogs on the website.