We're excited to introduce you to some of the incredible people working behind the scenes at Travix. Each Travix employee, in every position, plays a key role in getting traveling customers to where they need to go! We inspire and guide our customers through their entire travel journey offering the best travel deals possible and smooth booking through our user-friendly platforms. Travix is the company behind the internationally recognized brands:
CheapTickets
,
Vliegwinkel
,
Vayama
,
BudgetAir
and
Flugladen
. Travix has more than 550 employees representing over 50 different nationalities. Travix's own operations spans 39 different countries. Learn more about 'Young People with Big Jobs' at Travix in Armando Magalhães's blog.
Crafting Code
I love to code.  I've been programming since I was 9 and working as a software developer for Brazilian and Portuguese companies for the last 4 years. Now I'm a developer for Travix in Amsterdam, where I've been working for less than a year. I joined the company as an Intermediate Full Stack Engineer, but have since been promoted to a more senior role as a Software Engineer. The great thing about my work is that I get to combine my love for coding with new responsibilities, such as team management and decision-making on important technical decisions that directly impact how customers interact with our platforms and products.
Life as a developer at Travix
Most recently, I've been very involved in a front-end project—improving the user interface, specifically the payment functionality on the websites. We want to make the payment process as smooth as possible for customers. We've redesigned the pages, added new features and performed a lot of tests to check usability and conversion rates. As a developer, our work is a lot about experimentation, experimenting with different code to find the most optimal user solutions.  
Next to this, I've also taken a look at how to optimize some internal processes. For example, I introduced a new release tool called Traken, which helps to standardize the way we notify software releases. What used to be a cumbersome 40-minute process takes 10 minutes at most now. This frees up developers' time to focus on other issues. There are plenty of ways we can improve our way of working, and part of my mission here at Travix is to make the company an even better place for developers to work and thrive.
Being a part of the tech team at Travix is dynamic to say the least. Depending on the project and priorities at the time, we can work in small teams of 3 or in medium-sized teams ranging from 6-12 people per team. There are probably close to 100 developers at Travix, and working in different teams means you get to work with a number of different developers, with diverse personalities and areas of expertise.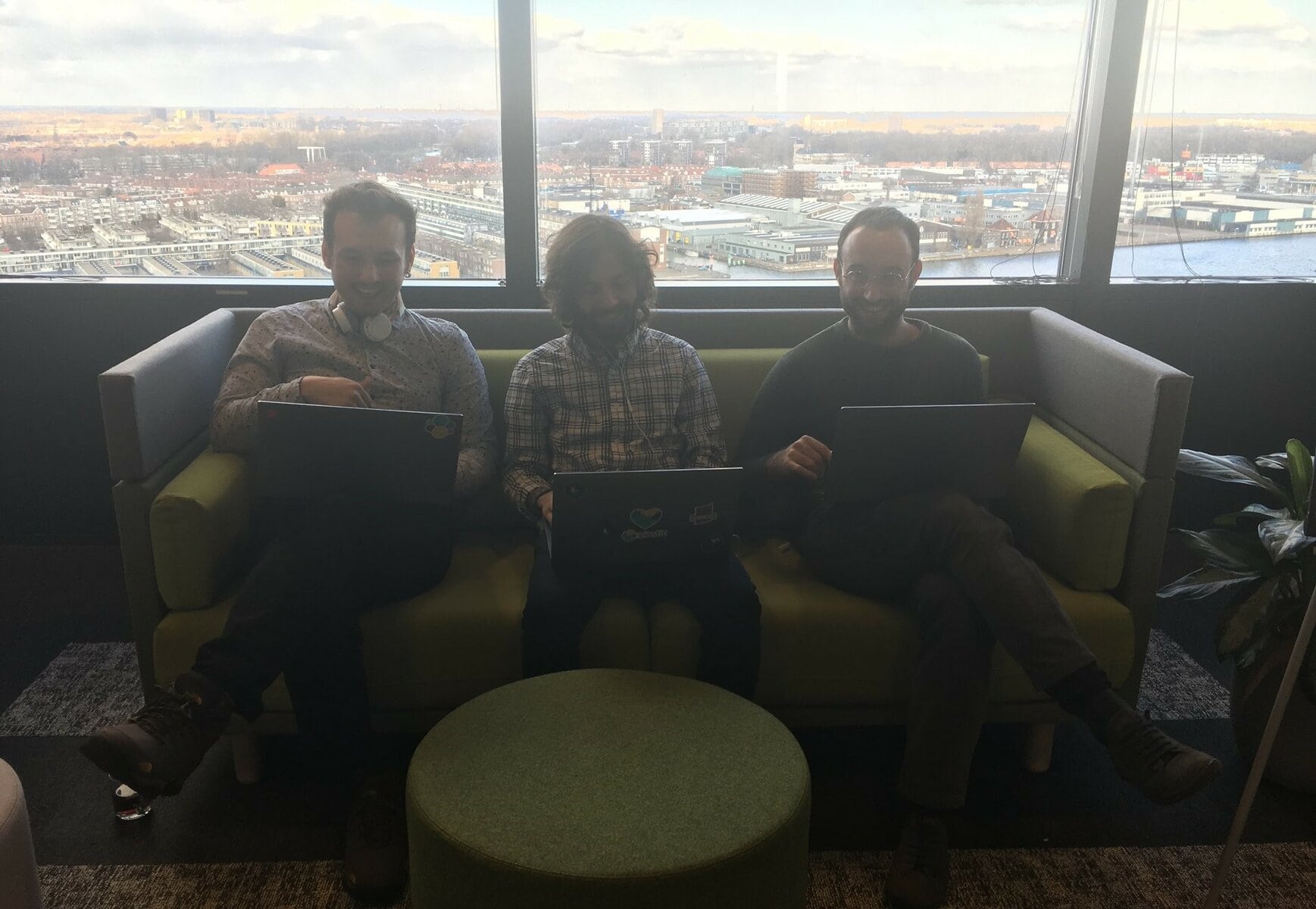 On top of all of this, and as part of my promotion to Software Engineer, I'm going to be mentoring a new developer on the team. I can speak from experience that Travix definitely values people who come up with new ideas and then implement them. We also get support in other ways, such as through a learning budget. Everyone has a budget which they can spend on conferences, courses certifications and the like. For example, I'm heading to a dotJS (JavaScript) conference in Paris in November.
It's not all work
In between work and meetings, I enjoy playing a game of foosball with others from the team, or having a beer together at the end of the day. And while I code a lot at work, I also love to code in my free time. It's the time where I can read about the latest in the industry and play around with it on my own, and develop ideas to also try out in the office.
Amsterdam is also a great city to live and work in. I moved from Brazil for this job—I had never been to the city and didn't know what to expect! That being said, I love it. I think it's a utopia of sorts; of course, it has its problems, but it's nothing like what happens in Brazil! I wanted something different, and I finally found it here in Amsterdam.
Kind regards,
Armando